Beschrijving
Turkey Tail Capsules
Turkey Tail en gezondheid..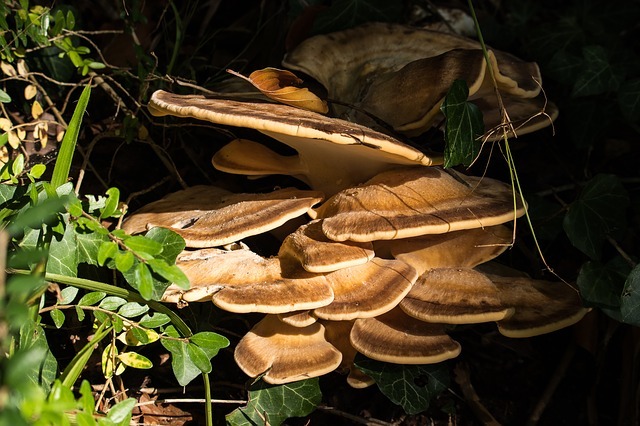 Met trots presenteren we je deze Turkey Tail capsules. Turkey Tail (Trametes Versicolor) ook wel elfenbankje is de meest onderzochte paddenstoel uit ons assortiment.
Dit vanwege al haar mogelijke geneeskrachtige eigenschappen. Zo zijn er o.a. onderzoeken gedaan naar de werking bij verschillende soorten kanker en virussen. Hierbij is onderzocht of Turkey Tail bij kan dragen aan vermindering van kwaadaardige cellen en virussen door het verhogen van het immuunsysteem. Onderaan deze pagina vind je verschillende verwijzingen naar wetenschappelijke artikelen en onderzoeken hierover.
Waarom deze Turkey Tail capsules?
Wij verkopen niet zomaar de eerste de beste Chaga. Hieronder zetten wij voor je op een rij waarom juist deze Chaga capsules zo goed zijn.
Wij verkopen niet zomaar de eerste de beste Turkey Tail. Hieronder zetten wij voor je op een rij waarom juist deze Turkey Tail capsules zo goed zijn.
Bevat 400mg organische Turkey Tail (Coriolos Versicolor).
Extract van 100% vruchtlichaam (paddenstoel).
Full Spectrum extract verkregen door middel van H2O en Ethanol. Zo wordt het maximale uit het vruchtlichaam gehaald.
Bevat 30% polysachariden waarvan ongeveer 90% beta-glucanen.
Hulpstoffen: Magnesiumcitraat en siliciumdioxide.
Kan hulp bieden bij..
Klachten zoals griep, verkoudheid, herpes en chronische vermoeidheid
Anti-aging; maakt de huid elastisch en soepel en je haar sterk en glanzend
Ondersteuning bij auto-immuunziekten
Door pro-biotica worden er goede bacteriën in je maag en darm aangemaakt.
Goede impuls voor je spijsvertering waardoor het kan helpen bij het afvallen
Product details
Aantal: 120 Turkey Tail Capsules
Maat 0 capsules
Netto inhoud 400mg per capsule
Dosering 2 maal daags 1-2 capsules tijdens de maaltijd innemen.
Bekijk hieronder ons volledige assortiment aan paddenstoelen supplementen.
Klanten geven Smart Bazar een 4.6/5
Voor 17.30 u. besteld, morgen in huis
Fysieke winkel & webshop
Priority shipping NL & EU
Waarschuwing
Buiten bereik van kinderen bewaren. Wanneer er sprake is van zwangerschap, bortsvoeding of gezondheidsklachten altijd eerst uw arts raadplegen.
Wetenschappelijke artikelen & Onderzoek
Turkey tail & Het immuunsysteem
The mycelium of the Trametes versicolor (Turkey tail) mushroom and its fermented substrate each show potent and complementary immune activating properties in vitro
Carlson A, Justo A, Hibbett DS: Species delimitation in Trametes: a comparison of ITS, RPB1, RPB2 and TEF1 gene phylogenies. Mycologia 106 (4): 735-45, 2014 Jul-Aug. [PUBMED Abstract]
Ng TB: A review of research on the protein-bound polysaccharide (polysaccharopeptide, PSP) from the mushroom Coriolus versicolor (Basidiomycetes: Polyporaceae). Gen Pharmacol 30 (1): 1-4, 1998. [PUBMED Abstract]
Ying J, Mao X, Ma Q, et al.: Icons of Medicinal Fungi from China. Science Press, 1987.
Cui J, Chisti Y: Polysaccharopeptides of Coriolus versicolor: physiological activity, uses, and production. Biotechnol Adv 21 (2): 109-22, 2003. [PUBMED Abstract]
Turkey Tail & Kanker Onderzoek
Tsukagoshi S, Hashimoto Y, Fujii G, et al.: Krestin (PSK). Cancer Treat Rev 11 (2): 131-55, 1984. [PUBMED Abstract]
Sakagami H, Aoki T, Simpson A, et al.: Induction of immunopotentiation activity by a protein-bound polysaccharide, PSK (review). Anticancer Res 11 (2): 993-9, 1991 Mar-Apr. [PUBMED Abstract]
Ikuzawa M, Matsunaga K, Nishiyama S, et al.: Fate and distribution of an antitumor protein-bound polysaccharide PSK (Krestin). Int J Immunopharmacol 10 (4): 415-23, 1988. [PUBMED Abstract]
Hoshi H, Saito H, Iijima H, et al.: Anti-protein-bound polysaccharide-K monoclonal antibody binds the active structure and neutralizes direct antitumor action of the compound. Oncol Rep 25 (4): 905-13, 2011. [PUBMED Abstract]
Quayle K, Coy C, Standish L, et al.: The TLR2 agonist in polysaccharide-K is a structurally distinct lipid which acts synergistically with the protein-bound β-glucan. J Nat Med 69 (2): 198-208, 2015. [PUBMED Abstract]
Miller RM, Taunton J: Targeting protein kinases with selective and semipromiscuous covalent inhibitors. Methods Enzymol 548: 93-116, 2014. [PUBMED Abstract]
Miller R, Galitsky NM, Duax WL, et al.: Molecular structures of two crystalline forms of the cyclic heptapeptide antibiotic ternatin, cyclo[-beta-OH-D-Leu-D-Ile-(NMe)Ala-(NMe)Leu-Leu-(NMe)Ala-D-(NMe)Ala-]. Int J Pept Protein Res 42 (6): 539-49, 1993. [PUBMED Abstract]
Kono K, Kawaguchi Y, Mizukami Y, et al.: Protein-bound polysaccharide K partially prevents apoptosis of circulating T cells induced by anti-cancer drug S-1 in patients with gastric cancer. Oncology 74 (3-4): 143-9, 2008. [PUBMED Abstract]
Sadahiro S, Suzuki T, Maeda Y, et al.: Effects of preoperative immunochemoradiotherapy and chemoradiotherapy on immune responses in patients with rectal adenocarcinoma. Anticancer Res 30 (3): 993-9, 2010. [PUBMED Abstract]
Onderzoek Turkey Tail & Maagkanker
Onderzoek Turkey Tail & Borstkanker
Torkelson CJ, Sweet E, Martzen MR, et al.: Phase 1 Clinical Trial of Trametes versicolor in Women with Breast Cancer. ISRN Oncol 2012: 251632, 2012. [PUBMED Abstract]
Onderzoek Turkey tail & Longkanker
Fritz H, Kennedy DA, Ishii M, et al.: Polysaccharide K and Coriolus versicolor extracts for lung cancer: a systematic review. Integr Cancer Ther 14 (3): 201-11, 2015. [PUBMED Abstract]
Onderzoek Turkey tail & Colorectale kanker
Sakai T, Yamashita Y, Maekawa T, et al.: Immunochemotherapy with PSK and fluoropyrimidines improves long-term prognosis for curatively resected colorectal cancer. Cancer Biother Radiopharm 23 (4): 461-7, 2008. [PUBMED Abstract]
Yoshitani S, Takashima S: Efficacy of postoperative UFT (Tegafur/Uracil) plus PSK therapies in elderly patients with resected colorectal cancer. Cancer Biother Radiopharm 24 (1): 35-40, 2009. [PUBMED Abstract]
Sakamoto J, Morita S, Oba K, et al.: Efficacy of adjuvant immunochemotherapy with polysaccharide K for patients with curatively resected colorectal cancer: a meta-analysis of centrally randomized controlled clinical trials. Cancer Immunol Immunother 55 (4): 404-11, 2006. [PUBMED Abstract]